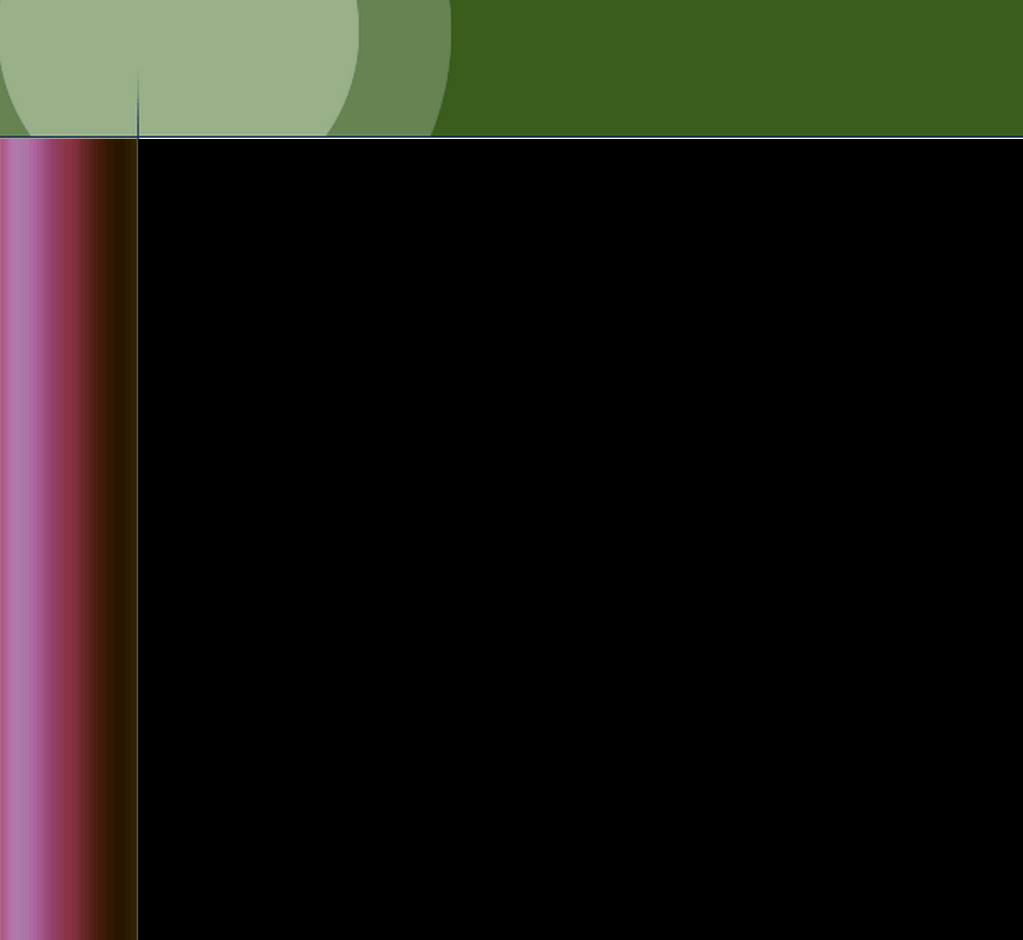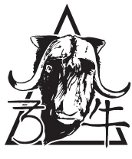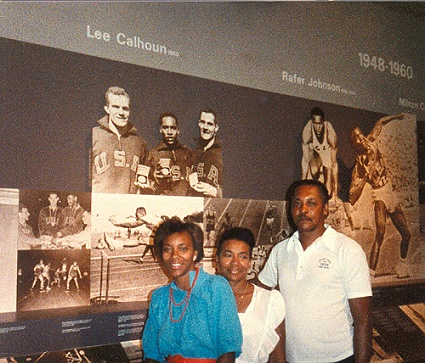 North Carolina Central University / Class of 1957, MS 1965
Head Track And Field Coach / Grambling College 1967-1970
US Olympic Coach 1968
Assistant Coach / US Team At Pan-American Games 1971
US National Track And Field Hall Of Fame 1974
US Track And Field Hall Of Fame 1974
Helms Hall Of Fame 1974
US Head Coach / US Vs. Soviet Union, Poland, Czechoslovakia 1975
Head Track And Field Coach / Yale University 1976-1979
US Olympic Coach 1976
Coach / Pan-American Games 1979
Head Coach / Western Illinois University 1980 - 1989
CIAA Hall Of Fame, Indiana State Hall Of Fame,
Sports Hall Of Fame, Meet Of Champions Hall Of Honor 1982
Olympic Dream Team 1983
Western Illinois Master's Degree 1985
~Posthumously~
Western Illinois University Athletic Hall Of Fame 1990
Western Illinois University Annual Lee Calhoun Memorial Relays 1990
Olympic Hall Of Fame 1991
Penn Relays Wall Of Fame 1994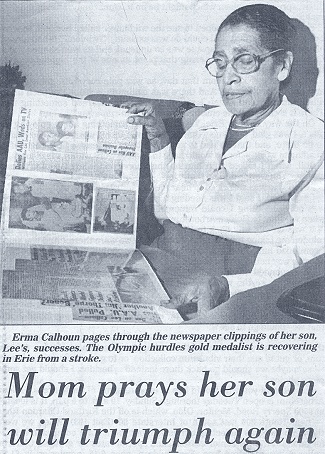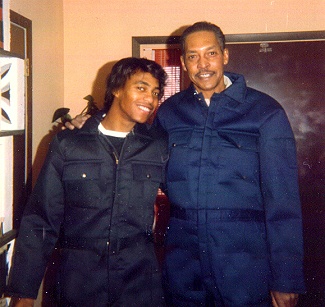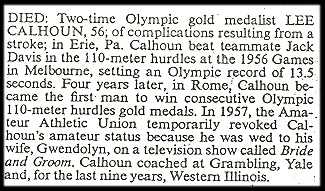 Born February 23, 1933 in Laurel, MS
and passed away June 21, 1989
in Erie, PA, due to complications from a stroke suffered in February of that same year.
"Miss You Dad, Thank You For The Life Lessons."
Lee With His Family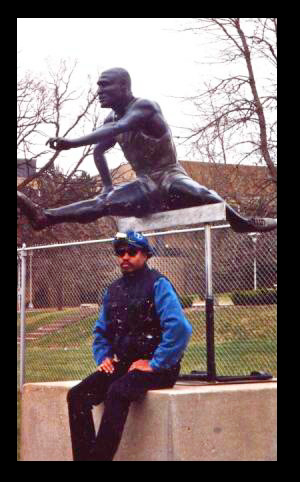 "Excellence On Winged Feet"
A life-size bronze sculpture honoring the memory of my Father;
Created by Colorado artist Lee Hansen.
The statue is a permanent fixture displayed at Hansen Field, Western Illinois University
Gwen Calhoun & I, congratulating Bruce Johnson on his 110M high hurdle win at the 2nd Lee Calhoun Memorial Relay Meet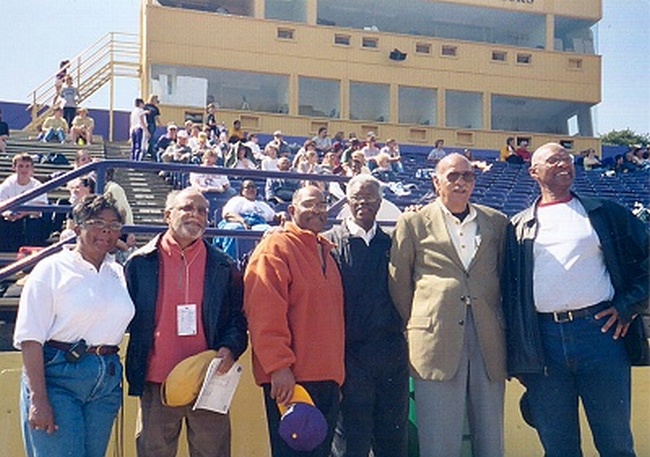 Mamie Rawlins, Deacon Jones, Hayes Jones, Ralph Boston, Ted Wheeler & Willie May
Olympians present at the 14th Annual
Lee Calhoun Memorial Relays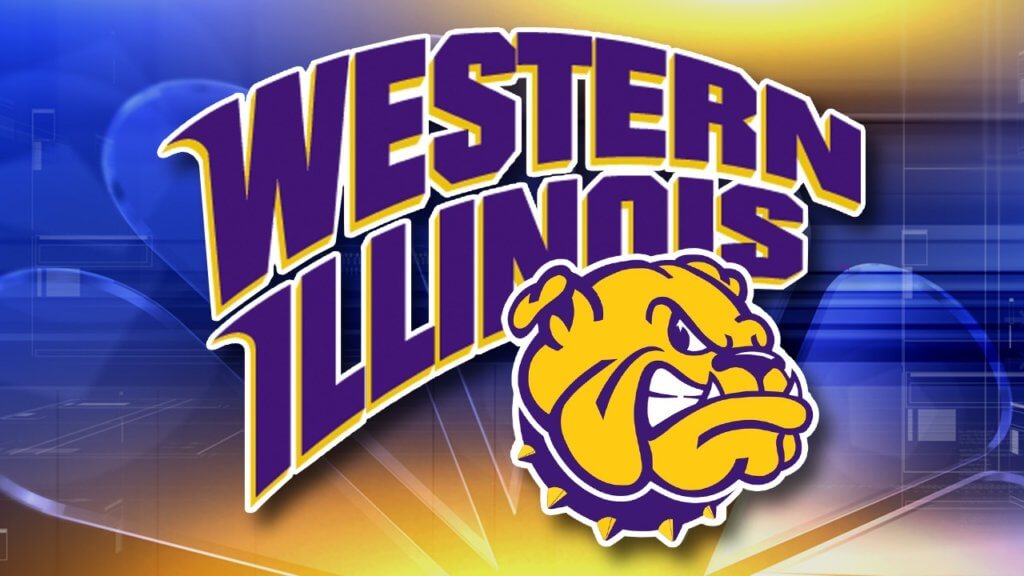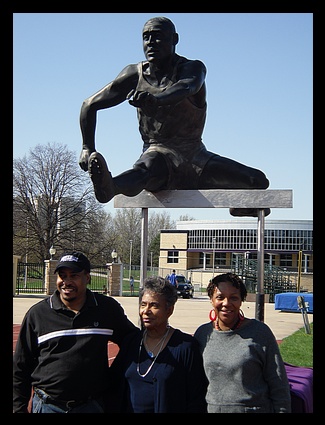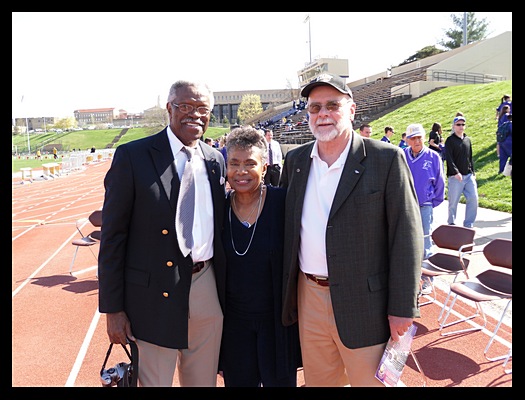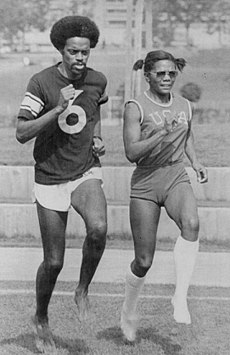 Ralph & Mamie

Ralph Boston, won three Olympic medals in the long jump: Gold in 1960, Silver in 1964 & Bronze in 1968. He was the first athlete to break the 27 feet (8.2m) barrier.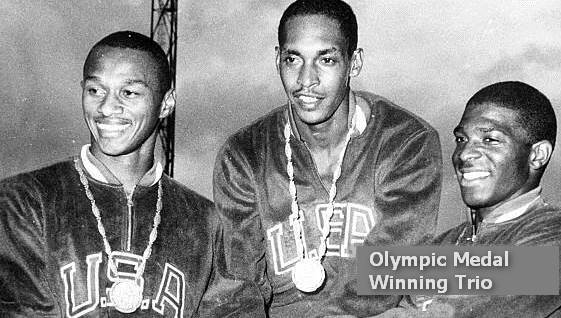 Both Lee Calhoun & Ralph Boston hail from Laurel, Mississippi
and were the biggest influences on my Track & Field endeavors
1960 Olympic Games, Rome, Italy
Mens 110M Hurdles
Willie May, Lee Calhoun & Hayes Jones
Ralph Boston, Gwen Calhoun, alongside Track & Field enthusiast, supporter, and family friend
Tom Carper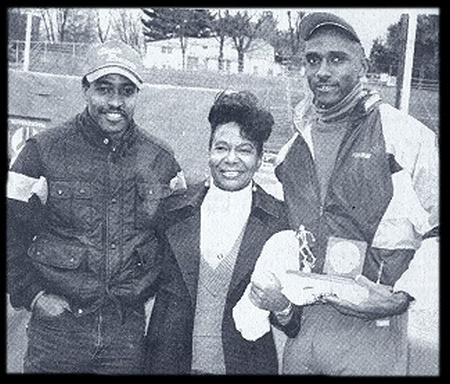 ~ Olympic Flashback ~